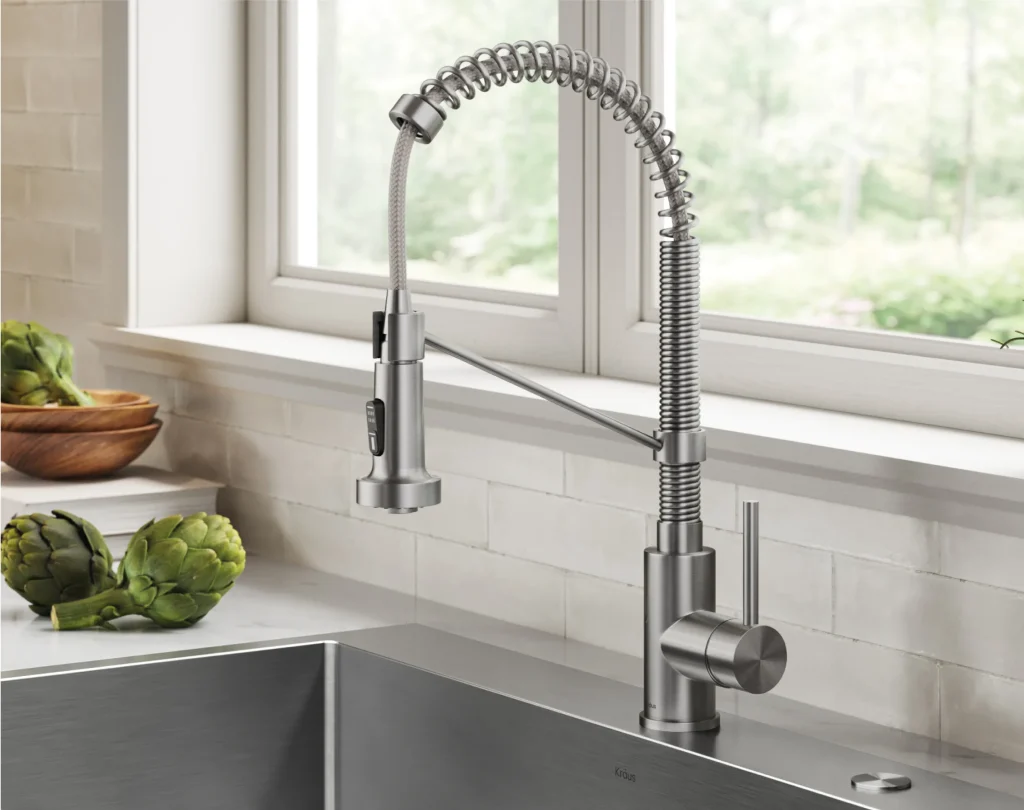 If your kitchen is hopelessly out of date or ill-suited to your needs, turning it into a more functional space can be a laborious, and often expensive, endeavor.
On the other hand, if your kitchen works well for you, but you want to make some kind of improvement, there are many reasonably priced, quick, and even DIY ways to give it a makeover.
You can make a surprisingly big impact to your kitchen – and make it quite a bit more user-friendly – by changing the faucet in your kitchen sink. Although used many times each day, the faucet is often ignored by homeowners unless it springs a leak, or is replaced as part of a larger kitchen remodel. And while it's true that it demands attention in either of those situations, it's also true that sometimes, just replacing an old, ugly, or dated faucet with a newer model is all you need for a fresh take on your kitchen.
To get the lowdown on kitchen faucets we've even consulted Nina, a gourmet chef and interior designer.
But choosing a new kitchen faucet can be difficult. There are many brands, models, and options available, and various configurations as well. That's where we come in!
If you are ready to choose a new faucet, check out our five recommendations. But if you'd like to learn more about the various types of faucet available and how to choose the right one for your kitchen, read on.
Count your mounting holes
Assuming that you are not buying a new sink along with a new faucet, you need to know the number of faucet mounting holes in your existing sink. These are the holes – typically covered by some sort of base plate – for the faucet spout, taps, side sprayer, soap dispenser, and other mounted accessories.
Your sink will have anywhere from one to four mounting holes. Your new faucet can't require more holes than those that already exist on the sink, although it can require fewer holes. For example, if your sink has three mounting holes, and you choose a faucet that needs one hole for the spout, one hole for the cold water tap, and one hole for the hot water tap, you're fine. But that's not the only option. You can work a variety of combinations for the existing holes; for example, you could install a single-hole faucet, side sprayer, and soap dispenser.
You can also choose a faucet that requires fewer holes than your sink offers, then cover the unused holes with a longer base plate. What you cannot easily do, however, is install a faucet that requires more holes than already exist in the sink.
Wall-mounted vs. deck-mounted faucets
An increasingly popular option is a wall-mounted kitchen faucet, which, as the name suggests, attaches to the wall right over the sink.
This isn't an option in kitchens with a window over the sink, but these faucets do provide an uncluttered, open look to the sink area, and also make it easy to clean around the sink's top.
If you're switching from a deck-mounted faucet to a wall-mounted faucet, you'll need to have the sink's water lines brought up to the wall opening.
How many handles?
A traditional faucet has two handles: one for hot water, and one for cold water.
Many people prefer a single-handled faucet in the kitchen, however, which has one lever or knob that rotates toward the left to make the water hotter, and toward the right for cold water. The single lever makes it much easier to work the faucet with wet or slippery hands.
Today, you'll also find faucets with no handles at all. These hands-free faucets are triggered by a wave of the hand or a light tap, and are very convenient for busy cooks.
Basic types of kitchen faucets
Gooseneck
Gooseneck faucets have a high, arching spout, and are excellent if you wash a lot of large pots and pans. They require a deep sink; otherwise they are prone to splashing.
Pot filler
You'll usually find these hinged faucets near the stove, where they are used to fill large pots for cooking pasta.
Two-handle
Although more common in bathrooms than kitchens, there are still many kitchen sinks adorned with this traditional, one-tap-for-hot-water and one-tap-for-cold-water faucets.
Single-handle
This is probably the most common type of kitchen faucet, at least in older homes. It has one tap, usually mounted on the spout, which rotates left for hot water and right for cold water.
Pullout faucets
This very popular design has a built-in, retractable sprayer that pulls straight out, making it easy to fill pots, clean the sink, and wash produce and dishes. These are one-handle faucets.
Pull-down faucets
Like a pullout faucet, there is a built-in, retractable sprayer, but with this design, the faucet spout arches up and over the sink, and the sprayer pulls straight down. These are good for very deep sinks, and also have a modern appearance that some homeowners appreciate.
Bridge
This old-fashioned faucet is making a style comeback. It has separate hot and cold water taps, but they are connected to the spout by above-sink metal bridges, rather than underneath-the-sink connectors.
Faucet finishes
The choice of finish is purely a matter of aesthetics, so go ahead and choose the one you like best, or that matches other metals throughout your kitchen.
While chrome is the most common faucet finish, you'll find many other options, including brushed metals, matte finishes, satin sheen, and copper or polished brass.
Faucet features to consider
Faucets are fairly basic, but there are still a few terms and features you should know about.
Built-in filter
No more buying bottled water when you can easily filter your tap water.
Hot water dispenser
Super convenient when you want a quick cup of tea or coffee, this is another extra that requires one of the holes near your faucet spout.
Spray/stream selector
A button that lets you switch between a stream and a spray of water. It's usually on the top or the side of the faucet's head.
Temperature setting
This high-end feature holds your temperature even after you turn the faucet off, making it easy to return to your faucet later.
Magnetic lock
A feature of many pull-down or pullout faucets, the magnetic lock holds the faucet head in place while retracted.
Side sprayer
Not so popular now that pull-down or pullout faucets have taken over, a side sprayer is a separate, hand-held sprayer that mounts next to your faucet spout.
Soap dispenser
Instead of a bottle of dish soap sitting near your sink, you just pump it out of this handy attachment, which installs in one of the mounting holes next to your faucet spout.
Tips
The base plate, which is sometimes called the deck plate, covers any extra mounting holes on your sink. Deck plates can add a decorative touch to your kitchen, but they also add one more surface to clean.
Ceramic valves are the top choice for preventing faucet drips. Other types of valves are usually drip-free for years, but they can't match the long-term reliability of ceramic.
Bronze faucets have a brownish tone and are often called "oiled" or "rubbed" bronze, but the surface is a coating (such as epoxy) rather than metal.
Make sure your faucet head has enough swing to reach the entire inside of your sink.
Faucet prices
While you'll find builder-grade faucets that are less than $80, you're far likelier to have problems with these models than somewhat more expensive faucets.
Generally, a good kitchen faucet with desirable extra features will cost between $100 and $300.
Source: https://bestreviews.com/best-kitchen-faucets